Bard
Bard

Bard concept art for RO.
Info
Job Tier
2nd Class
Job Base
Archer (male)
RO Job Bonuses
STR
AGI
VIT
INT
DEX
LUK
+2
+7
+3
+5
+9
+4
RO2 Job Bonuses
STR
AGI
VIT
INT
WIS
none
none
none
none
none
Bards are traveling musicians with the ability to perform magic through song. They can partner up with Dancers to initiate powerful spells.
Bards are only available in Ragnarok Online.
At a leisurely break, the Bard especially likes to sing and finds their calling in poetry. The song he was singing grew more and more, and he finally acquired magic power. When he sang, the flora became silent and beasts gathered near him, listening to his song and gently keeping quiet. The sound of his powers spread widely and finally entered the ears of King Tristan III of the Kingdom of Rune-Midgarts. The King invited him to listen to his song and be impressed and asked him to join the ranks of the adventurers.[1]
See Bard Job Change
Only male Normans can become Bards.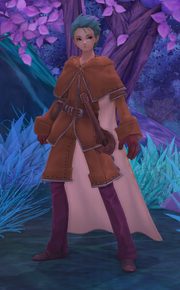 Bards can only equip gear designated as:
Bard Class Only
2nd Class Only
All Classes
Bards can utilize the following weapons:
Almost all Bard skills were localized to completely different names in the international version of Ragnarok Online (iRO). This list is the English translation of the original names from the original version of the game (kRO).
Bards can go on to become a Minstrel or transcend to Clown.
| 1st Class | 2nd Class | 3rd Class | Transcendant |
| --- | --- | --- | --- |
| Archer | Bard | Minstrel | Clown |
In medieval Gaelic and British culture a bard was a professional poet, employed by a patron, such as a monarch or nobleman, to commemorate the patron's ancestors and to praise the patron's own activities.[2]