Magician
Magician

Magician concept art for RO.
Info
Job Tier
1st Class
Job Base
Novice
RO Job Bonuses
STR
AGI
VIT
INT
DEX
LUK
none
+4
none
+8
+3
+3
RO2 Job Bonuses
STR
AGI
VIT
INT
WIS
??
??
??
??
??
Magicians, or Mages, are imbued with the power of elemental magic.
With insight into all the elements that exist in the world, Magicians possess a spell of magic that grows inside of them to become great wizards, constantly grinding and refining it. Magicians thoroughly prepared in advance with high intellectual abilities and knowledge, and are thus able to overcome difficulties by studying and judging the opponent's nature thoroughly. One day, when Magicians saw the announcement of the recruitment of adventurers from Tristan III, Lord of Rune-Midgarts, they answer the call with the belief that they were a necessity in the adventure.
The Magician is always showing the way of studying the characteristics of monsters and their attributes. He or she judges and acts calmly under any circumstance, gaining the reputation of showing no emotions, but in reality they understand deeply.[1]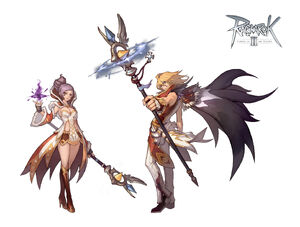 Only Normans can become Magicians.
Magicians can only wear gear that is designated for:
Mage Classes
1st Classes
All Classes
Cloth Armor (RO2 only)
Magicians can use the following weapons:
Magicians can go on to become either a Wizard or a Sage.
1st Class
2nd Class
3rd Class
Transcendant
Magician
Wizard
Warlock
High Wizard
Sage
Sorcerer
Professor
Magicians can go on to become either a Wizard or a Sorcerer.
1st Class
2nd Class
Magician
Wizard
Sorcerer